It is the dream of millions of people around the world to make money online and free themselves from the 9 to 5 world. To learn how to earn money online, the first step is to be realistic in how fast you can start making money. There are no "get rich quick" schemes that really work nor are there many overnight success stories. Of the relatively few people who have made vast amounts of money quickly, most of them started with a considerable sum.
So, while it might take you some time to build up a good income, it can be done. Here are some proven ways to make money online which can earn you a few dollars for some extra spending cash up to living a comfortable lifestyle depending on your success.
Making a Few Dollars Here and There
There are many ways to earn a little money here and there which do not require any training or experience in any field. If you are interested in earning a few dollars so you can purchase an item, catch a movie, or have a nice dinner every now and then, here are some ways you can get the cash online;
Online Surveys
Pay for Web Searches
Review Websites or Apps for Cash
Find "Pay To" Sites
These are simple, fast ways to earn a few dollars which can help you purchase the things that you want. However, they are not methods for you to become a millionaire anytime soon, so if you are looking to earn more money you will need to find more profitable ways to accomplish that task.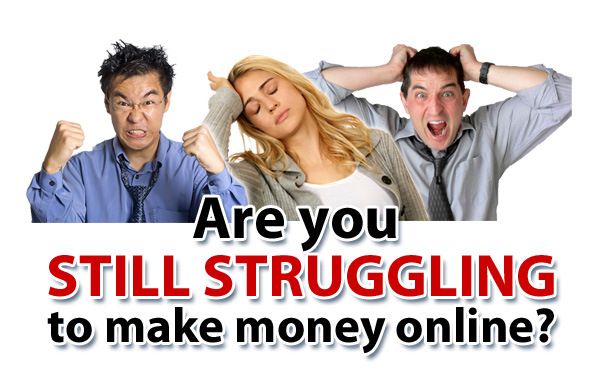 Starting an Online Business
This is arguably the most well-known method of making money thanks to the many programs that are promoted on a seemingly daily basis. The concept of building an online business is straightforward as you need products or services to offer for a price. The rest consists of purchasing a website and setting it up so it takes orders.
However, the failure rate for online businesses is high because it takes a considerable amount of time, effort, and in some cases money to create a successful site. What you sell also needs to be in demand. The old saying of being successful is not selling a product, but finding a product to sell is true for online businesses that have reached and exceeded the goals of the owner.
Selling Your Stuff
One of the easiest ways to make money online is selling your own stuff on auction sites such as eBay. Many people have sold what they no longer need on auction or sales sites, but you can build up a healthy business by finding things that people want and selling them online. The good news is that all you need are accounts on popular sites such as eBay, Craigslist, and Etsy, a PayPal account to accept payments, and a good camera to take photos of what you are selling.
Once you have experience selling your own stuff, it's simple to find popular items that are being sold at estate sales, warehouse auctions, and the like. By purchasing used items at a low price and selling them for a profit you can build up a considerable income depending on what you find. However, it does take time, effort, and some skill in finding the right places that have what you can sell for a tidy profit.
Freelance Writing
The demand for freelance writers is stronger than ever with millions of sites around the world in need of fresh, informative content. The good news about freelance writing is that it is a skill that can be developed and there is plenty of work available if you know where to look. There are several sites where freelancers can obtain work and build up their reputation so they can charge more for their services. Some freelancers will even hire others to do the work while they edit the finished product, allowing them to make a considerable income.
This is not the path for someone who has little to no inherent interest in writing. It does take time to build up your portfolio and establish a good reputation to make a good income. However, for those who do have the interest freelance writing is an excellent way to earn money whether you post your own work on different sites to accepting work from others who want top-quality writing.
Creating a Blog
Blogging is still a popular way to make money online and the field is only growing. What makes blogging so attractive is the low startup cost and the ability to create your own material which can be whatever interests you. Bloggers make money by posting articles and conversing with their readers which in turn generates interest from marketers who want to place ads on your blog. You can also sell items on your blog either those that you make or through affiliate marketing where you sell items from other sources. Perhaps the biggest advantage of blogging is how fun it can be to talk about what you love and interact with others while doing so.
However, it takes a good year or two to build up a blog before you start seeing any real profits. Plus, the amount you make will depend in large part about how interesting the subject matter is that you blog. Successful bloggers are those who found a niche where they became seen as an authority on a subject.  It may take some trial and error before you find the right subject that will start earning advertisements, but when it happens you will have a powerful means of making money online.
Understanding how to make money online starts by doing research to find what works best for you and making the commitment to stick to your efforts. Patience and persistence are virtues in your journey to earn money online, but for those who are willing to try and learn from their experiences, it can be a way to build a profitable income stream.