Like almost everything else, there are complicated ways to earn money online and there are those methods that are so easy, anybody can do it. Easy ways of earning online are not all straightforward and they all require a certain level of knowledge and skill, but they are still a whole lot easier to do than the complicated jobs. Some of the easy ways to make money online include;
Web design
A strong knowledge of programming is required but if you are proficient enough, it is an extremely easy way to make money online. The job entails creating websites for people and getting paid for it. Some people also prefer to do a little website maintenance while they are at it but as stated, as long as you have a solid background in programming, nothing should be too hard for you.
Marketing
There are a number of ways in which one can market a product online. Affiliate marketing is one of the easiest of the bunch with methods such as video marketing proving to have a little more difficulty. Either way, regardless of the method, marketing is one of the easiest ways to making money online.
Paid surveys and reviews
Taking surveys and reviews is an easy way to earn online. It doesn't require too big an investment and the returns are usually very satisfactory. Your effort is directly proportional to your earnings.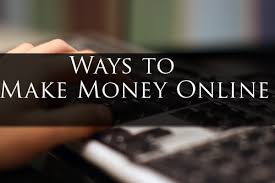 Content creation
This all boils down to whether you can write. Freelance writers, transcribers, encoders among others are some of the biggest earners online. Knowledge of the job is required but since you can get that knowledge online at very affordable prices, it is usually not that great an obstacle or too big an investment.
Blogging
A lot of people are earning top dollar just from blogging. There are so many methods or channels you can use to earn through blogging and the best part is that with a little time, skill and effort, the pay is usually very promising. Of course, knowledge of SEO content creation is a must have but that shouldn't be too big a worry for you.
Consultancy
If you are a professional in a certain field, you can offer consultancy services online. Of course you will need an avenue, such as a website or a chat service but it is all fairly easy to set up. Consider it more like doing what you studied for, online.
Conclusion
If you are looking for easy ways to make money online, then it doesn't get easier than consultancy, marketing, paid surveys and reviews, blogging, content creation and web design.
Please follow and like us: