Product Name: AffiliateFix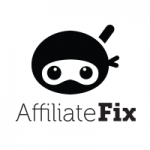 Overall Ranking: 70/100
Price: Free
Owners: Oliver Kenyon
INTRODUCTION
It takes a lot of money and time to create a new product to sell. What most people do on the internet through Afiliatefix is sell the products of other people for commission. The process involves selection of the product that someone is interested in and then market it to people in network and get a piece of profit made from the sales. This program is centered on cost per acquisition.
PROS/CONS
The person who seeks membership into this program does not have to own their own products, they simply come in with the will to sell.
There is also no investment required for someone to join this kind of program.
If you have been doing affiliate marketing of any kind before, then you will blend well into this program.
Basic membership is free.
Webinars as training materials are engaging and easy to understand.
If you require resources to help guide you in how to make the most of your free membership, you have to pay but the cost is only billed once and you are able to access all areas of the site.
WHO IS IT FOR
This program is for both the experienced and the inexperienced. There are a lot of online resources to show beginners what is required of them and these are in the form of webinars that make the guides easier to understand. The more you engage in affiliate marketing, the more experienced you become so your money making prowess increases.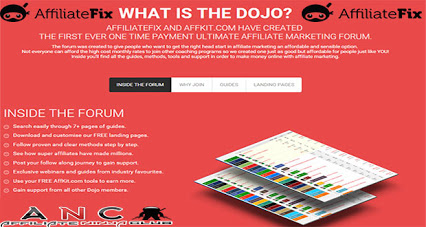 TRAINING/TOOLS OVERVIEW
There are no educational guides that are designed to introduce members to AffiliateFix but members get the rare chance of learning from the experience of expert marketers. These top marketers are part of the program and they take time regularly to share their experiences for the benefit of both the struggling and the new.
 SUPPORT
Apart from the resources shared by expert marketers of the program, members are not provided any direct support. Contact information of relevant officials to get in touch with is not listed on the site meaning that direct interaction is not entertained.
PRICE
Membership to the program is free but members are required to pay a lifetime membership of $147 to Dojo which is a resource platform for tested Guides, Follow Alongs, Affkit Tools, Tips and Tutorials, Success Stories, Case Study, and Discussions.
FINAL OPINION/VERDICT
Most people look for online jobs because they are either too tied up with other responsibilities or have no money to start their own businesses. This forum offers its members levels of membership to suit their financial ability. While it is important for newbies to verify information in the general area, those in the Dojo platform can be guaranteed of what they learn. I would recommend this site to all those people who are interested in a genuine affiliate program because online reviews indicate that it is legit. Enroll in this site for an affiliate marketing adventure.
Please follow and like us: