Product Name: CB Passive Income Review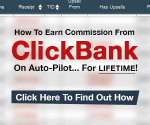 Overall ranking: 80/100
Price: $47 per month or a one-time investment
of $97.  Features a 60-day money back guarantee.
Owner's Name:   Patric Chan
Website:  http://cbpassiveincome.com/
Introduction to CB Passive Income
CB Passive Income is an internet business-in-a-box program that can generate a sustainable passive income for the investor.  It's founder, Patric Chan is a well-known author who has spoken to audiences in 12 countries as an internet marketing authority and has authored several books.
He has developed a powerful marketing software which enables a person to make money from the internet. The products promoted are from Clickbank.com, mainly because, Clickbank only approves legitimate products into their affiliate program marketplace.
Pros of Using CB Passive Income
Patric Chan is a published author who has done many seminars and talks on investing
Program has the ability to generate auto-pilot income
Software and training course are given away free by a "secret web page"
Requires no experience to learn
Provides testimonies of clients who are satisfied they are part of this program
Ability to be up and running within 24 hours
Offers free bonus material – The Digital Cover Creator, Traffic from Google Home, The Email Assassin Home Course
 Cons
No direct email or location of business
Website has the date of 2017, it should read 2018
Who is this program for?
CB Passive Income is for anyone who seeks to invest their money into a program that will do all the work for them.  It has an auto pilot feature that does not require any effort from the investor to make a part-time income with affiliate marketing.
Training and tools available
 Training for the software and training course is free it is provided through a "secret web page"
Support
Live virtual e-mail support and ability to submit a problem ticket.
Price
The cost to subscribe to this program is $47 per month or a one-time affordable investment of $97.  Features a 60-day money back guarantee.
Final Verdict
CB Passive Income is a program that offers a way for an individual to invest their money and receive free training and the required software to generate a passive income.
Once a person subscribes to this program the system automatically does all the work for you to send out and generate sales which enable you to earn a commission.
This program does not need any type of experience from the investor.
As a professional book reviewer, I have the knowledge to check out anyone who claims to be a published author.  It surprised me that each time I went to research Mr. Chan I was able to find supporting documentation that he was a published author who was considered an expert in investing.
I felt my discovery gave his program the strong foundation to believe his business was legitimate.  From reviewing his video and website I only found two small items that included his website which showed copyright of 2018 and there was no business location.
Based on my analysis, I feel that this program is worth the consumers investment.  It features a 60-day money back guarantee which makes a bold statement the owners believe their product will work for you.
Please follow and like us: