Product Name: Post Card Riches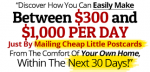 Overall ranking: 20/100
Price: Required to return postcard to signup
Owner's Name: Merrell, Postcard Riches Admin
merrellq@gmail.com
850-778-6321
Introduction to Post Card Riches
Postcard Riches is a unique and profitable money-marketing program. It offers an extremely powerful and rewarding pay concept.
It's a proven method that can bring you a "realistic" and "consistent" stream of Money Orders, Stamps and Lotto Tickets in the mail.
All you have to do is simply mail some postcards, and let the system do the work! It has the potential to turn a small amount of money into a small fortune!
Pros of Using The Post Card Riches
FREE 1st Class Stamps
FREE Scratch-off Lotto Ticket
"Gold"bonuses
Professionally monitored on a daily basis
Provide honest service
 Cons
No price on website on cost –directs person to use original postcard invitation to sign up
Owner does not provide a last name
There is no money back guarantee on this program
Does not offer any training support
Doesn't have any testimonies of current users who have made a success with this program
Website is not professionally created (poor grammar)
Owner uses a Gmail account to make contact
Who is this program for?
 The Elite Postcard System is for anyone who is brave enough to establish trust in a business that claims to be able to generate a high level of income with little or no effort.
Training and tools available
There was no training mentioned on how to use this program.  The website consists of a general one page information page.
Support
Merrell, Postcard Riches Admin
merrellq@gmail.com
850-778-6321
Price
Simply return the postcard you received, and follow the instructions on back to get started.  The website does briefly mention four levels of position commitment.
Position #1: Pays $50 Commissions, 5 Stamps, 1 Lotto Ticket and (1) Gram of Gold For Every 5 Personal Sales.
Position #2: Pays $30 Commissions, 5 Stamps, 1 Lotto Ticket
Position #3: Fees $35 Plus (1) Book of Forever Stamps / Admin Cost
Position #4: Pays $20 Commissions, 5 Stamps, 1 Lotto Ticket / Permanent Pay
Final Verdict
With an open mind I accessed the Post Card Riches website.  I was immediately surprised to see a simple one page website that touched on the main points on this program.
I really wanted to be convinced that this program worked, but there was glaring red flags that kept popping up with each sentence that I read.
One of the first that I discovered was that the owner never provided his last name.  The second was that there was no clear indication of what this program would cost.  The final deal breaker was that there were no proven testimonies of current clients who gave the indication that this program has been working for them.
The only high point I found this program offered was free stamps and lotto tickets, but then with no idea of how much the initial investment was to join I couldn't compare if this was a good deal or not.
My advice to potential consumers who wish to try this product is to pass.  The unprofessional website filled with grammar errors is enough concern that I feel this business is not legit.
Looking for a 100% legit, free to join opportunity?  Read this review
Please follow and like us: