Product Name: The Elite Postcard System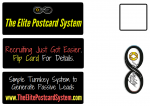 Overal ranking: 10/100
Price: Try free, no obligation
Owner's Name: Jason Lee, Founder
Phone: (33)-MADE-EASY
Website: www.TheElitePostcardSystem.com
Introduction to The Elite Postcard System
The Elite Postcard System is a postcard mailing business. How it works is that the company mails 50 free postcards to leads with your affiliate number on it for when you first join their team.
For every customer or affiliate that enrolls they mail another 50 postcards on your behalf for FREE with your affiliate number on it.
The company boasts that they close the leads, and do the follow-ups, and put them on your team for you!
The buyer has the option to purchase leads and postcards at a very low cost at any time if they want to grow your team even faster.
Pros of Using The Elite Postcard System
• At the Business Pack level and higher, you will get FREE access to online university (normally $25/mo) where you will get access to their top rated training vault and resources to help you build your business as big as you like.
• The website features testimonials from people who have succeeded in using this system
• Less Than 5 Minutes to launch
• If you can lick a stamp you can succeed in network marketing
Cons
• Enrollment takes you to a separate website called ARIIX
• ARIIX website takes you into a health care product purchase
• The website forces the potential buyer to provide their email and home phone number before they are allowed to learn more about the program
• Website is not professional created
• No training for the user to learn the program
Who is this program for?
The Elite Postcard System is for anyone who is seeking an easy method to generate extra income.
Training and tools available
There was no training mentioned for the lower end investment buyer. At the Business Pack level and higher will receive access to online university (normally $25/month).
Support
Jason Lee, Founder
Phone: (33)-MADE-EASY
SKYPE: jasonleehq
Price
• Try free, no obligation
NOTE: No price is revealed of the levels that are offered
Final Verdict
Upon entering The Elite Postcard System website red flags started appearing everywhere. The first one was when the business demands your phone number and personal email address. From the email that you submit to them it immediately sends you an introduction letter that encourages you to sign up NOW.
The second area of concern is that the website is not professional created. This is an indication the business is not legitimate. If they were making as much money as they are trying to convince you then professional website services funds would not be a concern.
The third indication is that Jason uses advanced social media features (chat, video, Facebook, and Twitter) to try and get the potential buyer to "talk" to him one on one so that he can convince them of how beneficial his program will be to their lives.
The final and most alerting flag was when I clicked on the link to purchase now I get directed to a page that sales health care products. I was stunned; here I thought the product was an investment in a mail order business. Instead, it looks to be a set up to purchase an entirely different product.
Overall I feel this website screams scam artist. I would not hesitate to recommend anyone who wants to invest in this type of program strongly avoid Jason and his mail order business. I feel the time to check this company out with the Better Business Bureau would be wasted, it is obvious that they are a business that is intent to satisfy their own financial needs.
This opportunity is simply no comparison to Wealthy Affiliate
Please follow and like us: