Product Name: American Bill Money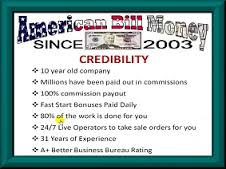 Overall ranking: 70/100
Price:Option 1:
$125 a month
Option 2:
$1500 twelve month plan
Owner's Name: Paul Korzeniowski
American Bill Money
P.O Box 4008
Portsmouth, VA 23701
Phone: (757) 966-1790
E-Mail:  abm2003@abminfo.com
itsabmtime@abminfo.com
Fax:  (757) 966-1611
Introduction to American Bill Money
American Bill Money has been in business since 2003.  The company specializes in selling advertising, and selling direct mail leads of income opportunity.
American Bill Money residual income system includes the service and tools of automated sales process, they boost of their A+ Better Business Bureau rating.
What is American Bill Money Affiliate?
You can become an American Bill Money customer affiliate, one of two ways:
Option 1: "Monthly Auto-Ship" Package sells for $125 a month and pays out $75 every month to the sponsor.
With the "Auto-Ship" option buy 150 fresh leads of opportunity seekers and buyers each month
Receive 150 ABM Postcards and 150 ID stickers with your name and ID # on them for your postcards.
Option 2: "Twelve Month Pre-Pay" which sells for $1,500 a year and pays out $900 to the Sponsor.
-Immediately receive the 1,800 "Leads" and 1,800 postcards
NOTE:
Added Bonus for "Pre-Paying" receive an extra 3,200 postcards for free. All 5,000 of your post-cards will be custom printed with your identification number and name Also can even put your picture on your postcards to help personalize them
Pros of Using American Bill Money Program
A toll free recording with all the details of American Bill Money
Company website that explains everything about the business
Potential prospects are handled 24 hours a day, seven days a week
The Home Office answers all the questions from your prospects for you, so you don't have to.
Live operators based in Virginia
Company website takes orders from your prospects twenty-four hours a day, seven days a week
Pay 60% commission immediately on all the people you refer to ABM, after your first referral
 Cons
 The website is slow to load
Website address is not .com
Website has several grammar errors that indicate it was not professionally created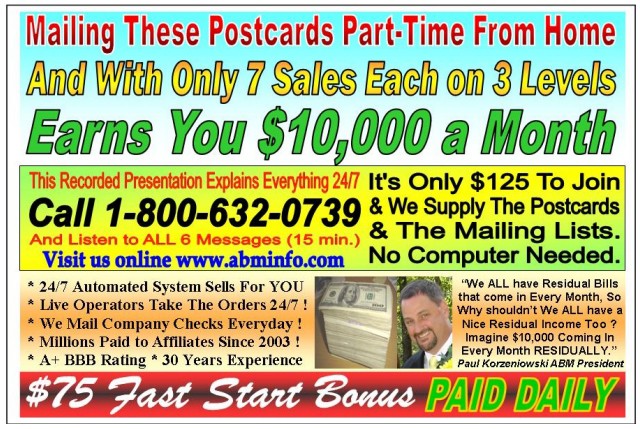 Who is this program for?
 American Bill Money is for anyone who is willing to work hard to receive a very profitable payback.
 Training and tools available
 The following features are available to members based on the investment in this business:
Complete online and offline marketing tutorial if option 1 is purchased
Toll free phone number available 24 hours a day
Support
The program offers the support:
Address:
American Bill Money
P.O Box 4008
Portsmouth, VA 23701
Phone: (757) 966-1790
E-Mail:  abm2003@abminfo.com
Fax:     (757) 966-1611
Price
Option 1:
$100 for the first month and $20 per month subscription
Full access to all training in member's area
Ability to join the Lazy River Club
90% commissions on first sale
90% commissions on all recurring sales
Option 2:
Free to join
No access to training in member's area
50% commission on first sale only
No monthly commissions
Final Verdict
American Bill Money looks to be a legitimate website where an individual who is willing to invest the time to learn the program will be able to receive a profitable income.
There are several features that are able to convince me that this program will work.  The first indication is that it states that it has been in business since 2003, and has an A+ Better Business rating.  I was also impressed with how many different forms of contact information that is available on the website.  The owner of the company was very clear with what a potential client could expect to receive from their initial investment.
The only minor inconsistencies that I found were minor grammar errors.  Also, the website was very slow to load when I first accessed it.  This could be attributed to not being compatible with all of the different web browsers that are in existence.
In all, I feel that this site is one that I would recommend.  The potential investor must go in with the mindset that they will have to put the effort into the program to be able to start generating a profit.  The only thing that I would have liked to see would be a money back guarantee.  This would have raised my confidence in this program.
How does this program compare with Wealthy Affiliate?
Please follow and like us: