Product Name: Bullion Capital Club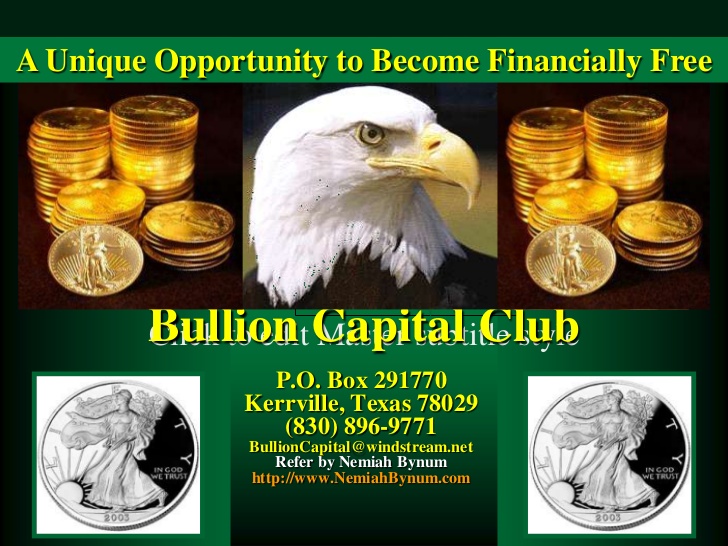 Overall ranking: 50/100
Price: No charge for member fee, but
the investor has to select from eight different purchase agreement denominations.
Owner's Name: Bullion Capital Club
P.O. Box 291770
Kerrville Texas78029
Tel: (830) 896-9771
E-mail Address: BullionCapital@windstream.net
Website: https://www.bullioncapitalclub.org/
Introduction to Bullion Capital Club
Bullion Capital Club is a direct referral system which has no uplines or downlines. There are no products to inventory or to sell to other people. Bullion Capital Club compensates club members with gold and silver bullion coins for simply introducing other people to the Club who take part in the purchase agreement. The company started in October 2008 by Fred Shupp RFC. Fred has been a highly professional financial planner since 1975.
To help introduce people to the Club, they have created a FREE website as well as a FREE no-obligation weekly telephone conference call. On these calls, they explain all the details of the program to you and your invited guests. This method eliminates the need for the investor to do presentations, sell products or explain anything to anyone. All that's required is just invite prospective Club Members to listen and get the details for themselves in the privacy and comfort of their own home or office.
What is Bullion Capital Club Affiliate?
There is no indication that the Bullion Capital Club is offering an affiliate program.
Pros of Using Bullion Capital Club Program
Offers FREE no obligation weekly telephone conference calls for prospective clients
Get paid in bullion instead of cash
No charge for membership fee
Cons
Complex payment plan
Unclear on how payments are received
No indication of who the current owner is of the company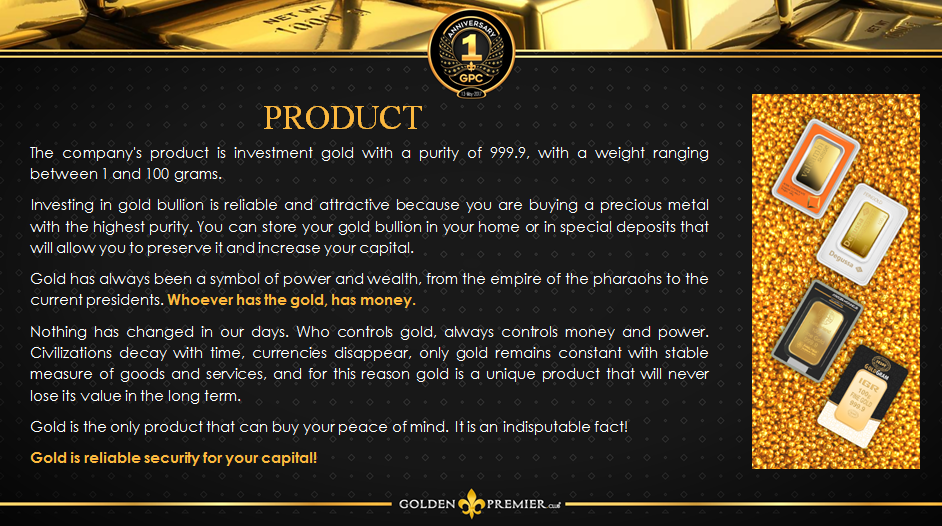 Who is this program for?
Bullion Capital Club was created for busy people who are looking for a very simple and uncomplicated way to increase their personal wealth and freedom without having to take unnecessary financial risks, and without having to sacrifice their free time or compromise their integrity by selling products that they have no interest in selling.
Club Members are NOT asked to sell gold and silver coins. Instead, they earn gold and silver coins for simply introducing other people to the club.
Training and tools available
The Company conducts regular educational classes utilizing telephone conference calls and computer-generated information. All Club Members are welcome to take advantage of these classes, and there is absolutely NO cost for participation in these sessions.
Support
The program offers the following: address, telephone, and e-mail support. Contact information is listed below:
Bullion Capital Club
P.O. Box 291770
Kerrville Texas78029
Tel: (830) 896-9771
E-mail Address: BullionCapital@windstream.net
Price
There are NO charges for becoming a Club Member, and there are NO annual fees or dues. To get started, just print the membership application and purchase agreement that are found on this website. Fill out the forms and send them to the Company with appropriate deposits for the agreement amounts you wish to purchase. Go to the Bonus Plan page to view the EIGHT different Purchase Agreement denominations.
Purchase Agreement denominations are as follows: $200, – $300 – $500 – $1,000 — $2,000 – $3,000 – $5,000 – $10,000
Final Verdict
On the surface, Bullion Capital Club looks like a worthwhile investment opportunity. It offers a unique purchase plan that allows the investor to determine how much he invests in the company.
Bullion Capital Club provided three methods of contact, which included an address, phone number, and email address. They did a good job in offering their no obligation video conference. This would allow the investor to not have to do any complex videos. Instead, they invite their potential client to the website to view and sign up.
I found more positives than negative about this website. There was one area of concern that triggered a red flag which was their payment method. I felt it was unclear what type of currency would be offered as a commission. On the company's website, it showed foreign currency. As an experienced traveler, I am very familiar with the foreign coin exchange rate.
I felt that by the company not fully divulging what type of currency the receiver would receive, they could be led to a currency that was less than the American dollar. With this fact in mind, I would caution the potential buyer to check out everything about this company they could before they invested their money into their program.
Click Here to review my #1 rated home business opportunity.
Please follow and like us: