Product Name:     ICANGet2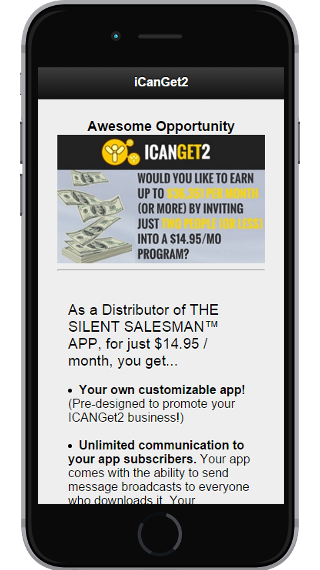 Overall Ranking:  90/100
Price:  $14.95 a month
Free Distributor Offer
Owner's Name:    Michael T. Glaspie
CEO and Founder
ICANNetwork and ICANGET2
Address:  
ICANGet2
Box 1886
Palm City, FL 34991
Website:  http://icanget2.com/
Introduction to ICANGet2
ICANGet2 is centered around the use of the Salesman™ Mobile Marketing App.  It is a powerful and customizable communication tool targeted at business, organization, or for fun.
It enables the user to send a text message any time of the day or night with no extra fee to anyone who opts in and provides their phone number if they are in the United States or Canada? If they are not in the United States or Canada, the system will automatically recognize that and send them a push message.
The app has several pages you can customize to promote whatever you like! Everyone who downloads it will see and interact with your content!  The app comes with the ability to send message broadcasts to everyone who downloads it. The messages go out instantly via text message or Push Notification!
Pros of Using ICANGet2 Program
App is available to download on both Apple and Android devices
Easy to customize – if you can type and click, you can customize app
Offers 24/7 Unlimited messaging
Ability to add audio and video
Offers free QR codes
Investors gain free access to Invitationtojoin.com
Receive your own @ICANGET2.net email address
Qualified Commission immediately
Universal Compatibility – Works on every smartphone, iPhone and Android
You own the app, you can change and control the content anytime
Live Training and Videos
Invitations to monthly webinars to teach of marketing techniques
Potential to make $36,351 per month (or more) by inviting two people (or less)
Smart phone ownership is not required
Paid 60% of gross income
Offers Silent Salesman™ which is customized to every user
100% legally compliant everywhere!
Cons
No clear explanation of the time or level of computer skill a person must possess
No email address provided, however there is a contact us section at the bottom of the site to answer any questions
No company phone number provided
Website has minor grammar errors
Who is this program for?
ICANGet2 is for anyone who is wanting to use the success of the internet to invest in a product that has the ability to communicate with a large population in a short period of time.
Training and tools available
The following features are available to members based on their purchase of the software:
Live Training and Videos
Access to monthly webinars
Support
Once you sign up for the app there is a dedicated support system via email.  Also, there are weekly call in sessions to get any questions answered. The user has access to live training and videos on a weekly basis. There is a dedicated mailing address:
iCANGet2
Box 1886
Palm City, FL 34991
Price
$14.95 a month
Distributor only is free to join
Final Verdict
ICANGet2 revolves around the growth of the internet.  It's estimated the internet is projected to double in the next three years. Smartphones are replacing computers and laptops and apps are replacing websites.
It's estimated that 95% of all text messages are read within five minutes of receipt.  In comparison to email which shows a delivery rate of 70% with only 10% of the audience opening up the email.
With such startling statics listed above, it stands to reason that the internet is a fast-growing platform that provides a strong, solid foundation to build any new business around.
ICANGet 2 uses the Salesman™ Mobile Marketing App.  It is compatible with any smartphone and can be downloaded to a computer.  It allows the user to customize the app to communicate through text messages to a large audience.  It is available for use 24/7 and is easy to learn and use.
After reviewing the ICANGet 2 website I feel this business is worth pursuing.  The only minor weakness that I could find was that I could not find a dedicated email address however, there is a contact form at the bottom of the site to answer any questions before you purchase.  Also, I would have liked to see a money-back guarantee for potential investors.
These minor discrepancies were not enough to not make me want to invest in this product. Based on the videos I watched and the website content I reviewed, I feel this product is one that has great investment potential.  Before investing, I would encourage anyone to check with the Better Business Bureau to make sure the company is legal.
To get more information on ICANGet2 or to sign up for this opportunity please Click Here.

Click Here to Find Out More about ICANGet2!
Please follow and like us: