Product Name: SEOLinkVine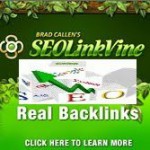 Overall Ranking: 78 out of 100
Price: $67 per month
Owners: Brad Callen
Introduction
Achieving Google ranking is no easy thing. Businesses have to put in some effort and follow all SEO rules to the letter. SEOLinkVine promises to help businesses achieve better ranking on search engines such as Google and Bing. It's basically an article network, founded and run by an SEO Guru known as Brad Callen. All you are required to do is submit articles in the system, including your keyword, and you get backlinks to numerous blogs that are relevant to your niche.
Pros
Just like WordPress blog, SEOLinkVine allows users to enter their articles and edit them later to their preferences. Better yet, they can also embed videos and include pictures together with the content.
Besides sending articles to the system, you can also plug in your own blogs and start receiving unique content from other users. This can be beneficial in bringing more traffic to your site, especially if the content is good.
Users with multiple sites do not have to log into their websites, each at a time, to view the articles since the system offers an interface where they can do all this at a go. There is even an option of accepting or rejecting content.
The platform offers a graphic representation for users to determine just how many of their pieces have been presented to blog owners. It also shows how many have been accepted, or published.
Cons
While SEOLinkVine stresses on quality content, there are some bad apples therein. Some blog owners report receiving content developed for links and not for the readers. This limits traffic and overall earnings.
The system offers a rank-tracking application that can be downloaded. However, the program is limited to Windows users. Users using other operating systems cannot access this feature at the moment.
Who is it For
This system is for anyone who wants to build their ranking and get more traffic to their site. Whether a starter, intermediate or expert, it promises great results.
Tools/Training Overview
When it comes to training tools, the SEOLinkVine does a pretty good job. It offers sections where users can access information and learn how to post their content or receive articles to their site. Better yet, there is a video embedded on the site, explaining clearly what the system is all about and the benefits it has for users.
Support
According to users, the support is also impressive. There is sufficient guidance for users all through, with Brad Callen going an extra mile to indicate contact details which users can use to get in touch with him in case of any discrepancies.
Price
Unlike other link building tools out there that charge a fortune, SEOLinkVine charges $67 per month. Some users are comfortable with this pay, while other say it's a lot for the results they get.
Verdict
SEOLinkVine is indeed a legit link building tool. However, the main question that lingers in minds of many is: is it worth the $67 per month? Users who want to build their ranking through link building can certainly benefit with the system. It has helped many abd can be beneficial to you as well.
For more information please visit SEO Link Vine
Please follow and like us: