Product Name: Killer Content System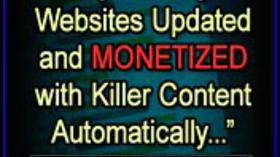 Overall Ranking: 66 out of 100
Price: $47, $37 with discount
Owners: Socrates Socratous
Introduction
Founded by Socrates Socratous, Killer Content System is a program that claims to help online users make easy money online without necessarily having specialized skills or experience. According to a video on their website, it promises that it will help users set up a website and start earning immediately. Is this true? Does Killer Content System live to its word?
Pros
 Killer Content System says that the first way to show they are legit is offer an affordable way to get started. All you need is $37 after discount to make your online entrepreneurial a dream.
Getting started may be hard, especially if you don't know anything about the system. However, the owners have ensured this is not a challenge to you anymore. You get access to a number of videos for training
There are also additional tools that are aimed to help you open up more for better opportunities to make money online.
Cons
Since the system offers many options, you may get confused on the way and give up.
Many users say that the many training tools and videos make it boring as one doesn't know what to focus on.
Support is not good. It is limited.
There's no free trial to prove that the system is what it says to be.
Who is it for?
Killer Content System is designed mostly for people who don't have any experience whatsoever. While some users say that it delivers to its promises, many starters say that they are unable to proceed because of the many choices they have to deal with.
Training/Tools Overview
When it comes to training, a lot of credit must be given to the Killer Content System. It offers a total of 10 videos for training, which highlight things such as:
How users can get 3345 subscribers within two hours or less
How one can build an eBay list for absolutely free and make some extra bucks
How to earn 68 percent more money by just selling rights on users' products
Simple ways to grow profitability of a PLR package
Support
Just like most similar systems out there, the Killer Content System does indeed offer full support. However, users say that they do not get any response when they have queries. This is a red flag and scares users away.
Price
The initial price is a onetime payment of $47. However, the system offers a $10 discount, meaning that users pay $37 to become a member.
Verdict
Killer Content System is indeed a solid program. It offers ample training for users, but fails terribly when it comes to support. In general, it is a decent product to use if you want to earn money online, but be aware that no one is going to address your concerns once you get started.
For More Information please visit Killer Content System
Please follow and like us: