Product Name: ECOM PROFIT SNIPER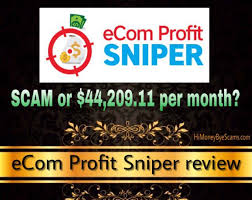 Overall ranking: 80/100
Price: $37.00; Guaranteed 60-day satisfaction
Owner's Name: Tom Parker
E-mail Address: support@ecomprofitsniper.com
Website: http://www.ecomprofitsniper.com
Introduction to eCom Profit Sniper
eCom Profit Sniper is an online investment company that uses Shopify to generate a high level of income. Currently, Shopify has more than 1.2 million active customers and each day the numbers keep growing.
Currently, there are $500,000 in Shopify transactions that occur in a single minute and the money-making potential of this website is growing rapidly. This website gives you access to 1.2 million active customers worldwide.
By investing in eCom Profit Sniper the investor only needs a computer and the internet and with as little as twenty minutes a day you can start generating a profit from the first day.
What is eCom Profit Sniper Affiliate?
There is no mention of offering an affiliate with this business.
Pros of Using eCom Profit Sniper Program
No special skills, equipment, or online experiences required
Spend 20 minutes per day and have the potential to make approximately $500,000 a year
Can start making profit from the first day of purchase
No need to purchase any goods
Uses Shopify that has 1.2 million active users worldwide
Guaranteed 60-day satisfaction
Credit card payment uses Click Bank which is a secure online network
Cons
The website features an introduction video, but it is unclear what exactly the investor will be selling
Users will only have a support e-mail to contact in case they have questions, this practice could cause delays in receiving an answer
There is no phone number listed for contact, this could deter people who are not internet savvy
Buyers are not educated on what they have to sell
Potential clients have to make the $37.00 investment before they are allowed to find out more about the program
Who is this program for?
eCom Profit Sniper is for anyone who wants to pay a low investment with the opportunity to generate a high profit. It doesn't require any special skills or knowledge. There are no products to buy and with as little as twenty minutes a day a person can start seeing a profit on the first day they invest in the company.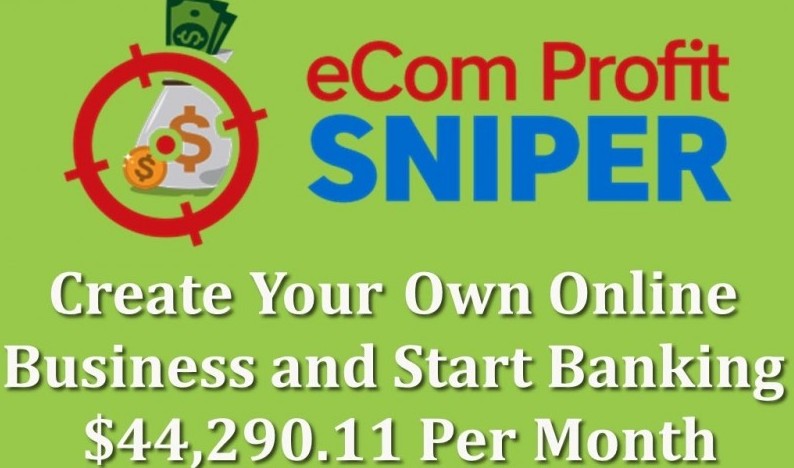 Training and tools available
There are no training programs that can be viewed by the potential client. The video does boast of the owner's experience and how he will show you the simple process to get started.
Support
The program offers a support e-mail address:
support@ecomprofitsniper.com
Price
$37.00
Guaranteed 60-day satisfaction
Final Verdict
eCom Profit Sniper offers the ability to show the investor how to use Shopify to generate a high level of income. It features a low investment rate that promises a 60-day satisfaction guarantee. There are no hidden fees that are connected with investing in this program.
The website consists of a video that explains through facts, statistics, and worker testimonies of the success of using this program. The knowledge in this one video is well-thought-out and makes the potential investor stop and think if this could be a truly legitimate business.
Three strong selling points that this company offers is the use of Shopify, and only charges a one-time fee of $37.00 with a 60-day money back guarantee. Being an experienced online shopper, I know that Shopify has literally taken the internet by storm, it allows the user to sell their goods worldwide with a small first investment.
The only weaknesses that this program features are the buyer has no way to know exactly what's required of them once they invest. The video states they select categories and products that will be sold under their name. This provides a gray area that makes me question what I am about to commit to, and how will my payment come from the initial sell.
Overall, this money-making opportunity has definitely captured my attention. I feel that $37.00 is a low enough cost that would allow me to experience what this company has to offer. Also, it offers a 60-day money back guarantee. I find this offer strengthens the company's commitment and dedication to the buyer by offering a product they know has been tried and tested.
eCom Profit Sniper is one of the best money-making websites that I have visited. The pros far outweigh the cons of what the company has to offer. I feel its worth the time required to do further research to check with the Better Business Bureau to see if it is a true and legitimate company.
Please follow and like us: