Product Name: Wealth Automation System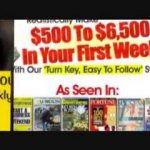 Overall Ranking: 34/100
Price: 6 Levels of Enrollment Ranging From $800-12,000
Owners: Tim Chesonis and Mike Cocan
INTRODUCTION
This is an automatic wealth generation system that has exaggerated earning potential of a minimum $500 per day from every sale made on your behalf. This program is based on the regular multilevel market mode of earning with the option of a member setting their own income level.
PROS/CONS
Commissions that members earn are based on the enrollment level that they signed up for. Commissions earned are sent via FedEx everyday so there is no accumulation of profits.
As soon as one of the people you enrolled earns, a part of the commission equivalent to your level comes to you.
The earnings of a referral have a direct influence on the level of earning of the referee.
The initial investment is too high considering that people looking for money making opportunities are probably not employed.
WHO IS IT FOR
There is no input required from members apart from their enrollment fee so anyone who has the money to sign up can join. The program makes money for its members passively so members are not even aware how and when products are sold. If you are unemployed, retired, or wanting to work for one reason or another, this program allows you to still make an income that is consistently large. This program has no expertise level and is suitable for advanced and entry level membership.
TRAINING/TOOLS OVERVIEW
Since the heavy task of selling is handled by professional marketers, members of this program do not need any knowledge on marketing. The system however shows members the level of income to expect based on the enrollment level they are in. It is a bit complex for newbies to understand and the large figures are normally what attract new members.
SUPPORT
Apart from accessing help through a customer care email address, members can also call a toll free number for assistance. There is however no way to contact the program owners directly.
PRICE
There are 6 levels of enrollment into the system and the initial investment a member is willing to make determines what levels of commissions they will be receiving.  Members are required to pay $800 for Level 1, $1,400 for Level 2, $2,600 for Level 3, $3,800 for Level 4, $6,000 for Level 5, and $12,000 for Level 6.
FINAL OPINION/VERDICT
For an affiliate program that entices its members to invest such huge sums of money with a promise of getting rich quickly, there is a lot that is left to the imagination. I am left to wonder why the owners would want people who do nothing to be part of the team that reaps huge profits from their hard work. I do not recommend this site to anyone because it appears to be a scam.
If you are truly looking for a Free 100% legit online business, that takes you by the hand, you must read this review on Wealthy Affiliate.
Please follow and like us: