Product Name: Online Second Paycheck System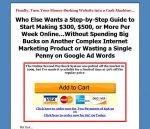 Overal ranking: 50/100
Price: Two Payments of $48.50 or $97.00 ($197 investment)
60 full days to try risk-free
Owner's Name: Craig Ballantyne
CB Athletic Consulting Inc.
E-mail at cb@cbathletics.com
Introduction to Online Second Paycheck System
Online Second Paycheck System offers a step-by-step guide to start making $300, $500, or more per week online.
With an investment of only an hour per day this step-by-step guide will dramatically improve your financial situation.  It will help you to finally earn that second paycheck online
What is Online Second Paycheck System?
Online Second Paycheck System has the following features:
Creating the perfect product for your prospects
Identifying the right target market where you can fill a gap in the marketplace
How to sell your product – With and without affiliates
How to attract affiliates and how to convince new affiliates to promote your product
How to get free traffic from Google (without spending a single penny on Ad Words)
How to get even more targeted traffic and website visitors from over a half-dozen easy, cheap, reliable sources
How to get more work done in less time with proven time and energy management tips
How to create recurring revenue – Without spending thousands of dollars on expensive membership software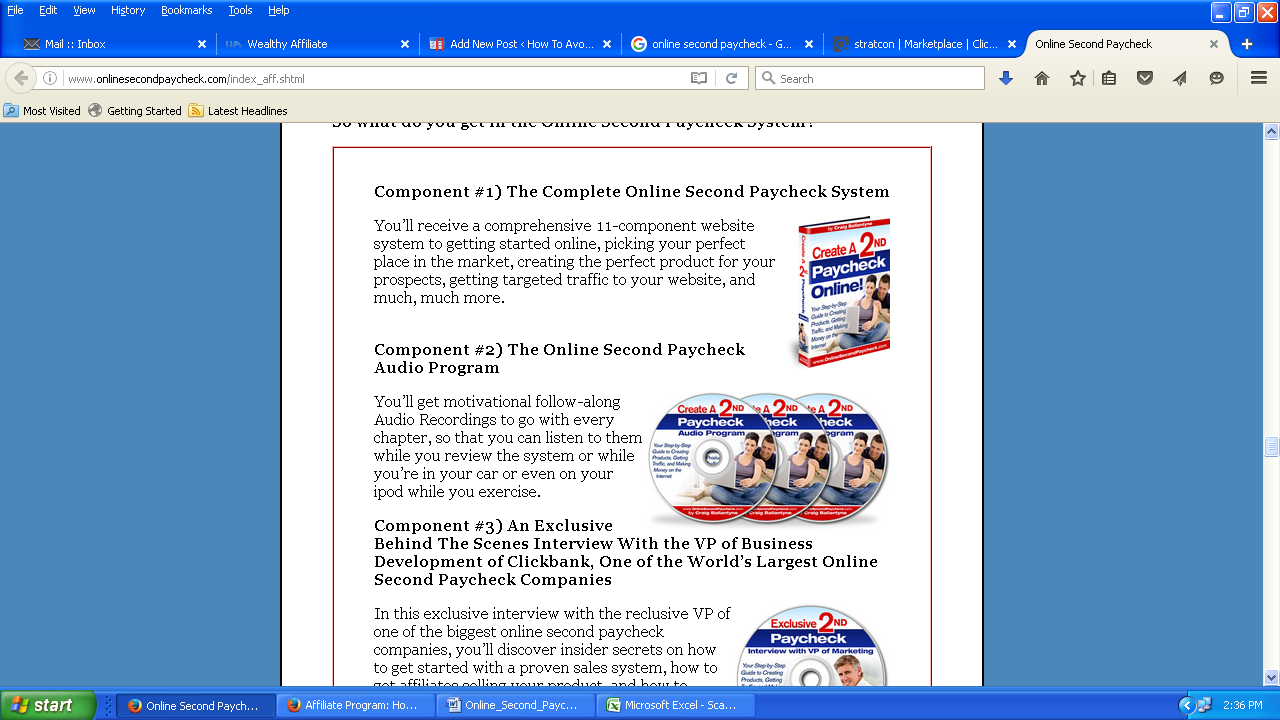 Pros of Using Online Second Paycheck System
Small investment
Quick marketing results in a short period of time
Cons
The website does not provide any sample videos of buyers using the product
Users will only have a support e-mail to contact in case they have questions, this practice could cause delays in receiving an answer
There is no phone number listed for contact, this could deter people who are not internet savvy
Lists two different prices
Website does not present a professional appearance
Who is this program for?
Online Second Paycheck is for those that are seeking to generate a steady flow of income from the products they feature on their website.
Training and tools available
The website was not clear on any type of training that would be provided to the user.
Support
The program does not offer any online support
Price
Two Payments of $48.50 or $97.00
$197 investment (Note: The two payments do not equal $197.00 investment)
Final Verdict
From the moment I accessed the Online Second Paycheck website I questioned if I was entering into a bad info commercial.  I was immediately put off by the lack of poor website design.  Also, of further concern were the discrepancies in the overall price.  When you do the math the calculations do not match the listed price.
Also, I feel this product does not offer enough information on what the seller will receive once purchased.  The one positive aspects I seen was that it did offer a 60-day money back guarantee if the buyer is not satisfied.
Overall, I feel that the buyer of the Online Second Paycheck system needs to be very cautious on their purchase.  I would suggest before an investment in this product occurs that you research it further with the Better Business Bureau.
Please follow and like us: