Product Name: WTM Publication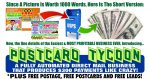 Overall ranking: 60/100
Price: Total of two money orders in the following amount of $300 to Jack Cupp and $198 to WTM Publications
Owner's Name: Eric Pantalone
E-mail Address: wtmpubs@gmail.com
Introduction to WTM Publication
WTM Publication revolves around a fresh new money making system called the Postcard Tycoon.  Its concept revolves around investing in a mail order program that is easy to operate and in return generates a profit.
This program offers you're all the supplies that you will need to get started immediately.  After the initial investment there is nothing more to buy (stamps, printing cost, etc.).  Another added bonus is the opportunity to receive additional supplies if a person orders in the next fourteen days.
Pros of Using WTM Publication Program
No computer needed
$300 sent to you on every sale
250 free Stamps – Starter package
250 free double sided post cards – Starter package
500 free hot prospect names
Free personalized website
Get paid per week (Monday – Friday)
 Cons
 Two money orders – one directly to a person named Jack Cupp
E-mail contact is a Gmail account
No refund policy
No guarantee of program working
No dedicated contact number
No formalized training program
Who is this program for?
WTM Publication is for anyone who is seeking to invest their money in a postcard business that provides the buyers all the supplies they need to start as soon as the package is paid for and received.  It is not a requirement to have a computer in order to be part of this program.

Training and tools available
The following features are available to members based on their purchase of this program
24/7 recorded boost and energize sales
Quick start report
Master Dealership Certificate
Professional designed personalized website
E-Mail support
Access to "Push-Button Easy" Print and Mail Service
Support
The program offers the following contact information:
Jack Cupp – 480-258-3097
WTM Publications
100 Powdermill Rd #117
Acton, MA  01720
E-mail:  wtmpubs@gmail.com
Price
A total of two money orders in the following amount of $300 made out to Jack Cupp and $198 made out to WTM Publications.
NOTE:
If the person orders in the next fourteen days they will be eligible for the "Five for Life" bonus.  This will enable you to receive 500 free postcards, 500 free names, and 500 free stamps.
Final Verdict
WTM Publication is a visually appealing website.  The owner and web designer did a very good job in presenting both a professional and eye catching website.  The colors seemed to calm me as I begin to read more in-depth what this entire program consisted of and what level of financial involvement would be required.
Halfway through the page I was pleasantly surprised to find that there were no red flags that had already caught my attention.  I was so enthused about what the owner was conveying to me I felt myself wanting to reach for my checkbook and take the required first step to become an active member.
Then as I was about to write out the check a BIG warning sign occurred in the price.  It involved having to make out two checks.  One was to be written to Jack Cupp and the other to WTM Publications.  I immediately reread the complete ad to try and find out who Jack Cupp was and what purpose he served I was very disappointed to see that there is no mention of who this person is or in what capacity he served to the program.
From this point on my senses were on high alert as I dived in to try and find more evidence to prove that my negative feelings where legit.  The next item that caught my attention was the email address which was a Gmail account.  I asked myself why if a company was this successful were they using a free Gmail account?
Another depressing factor is that the company does not offer a money back guarantee.  Nor does it give any information on current and previous clients and the success stories they were assured to have with such a "wonderful and easy" money making program.
To say that I was disappointed when I pieced together all of these hard core facts is an understatement. My hat is off to the web designer for creating such a visually appealing web site.  As I read each paragraph I felt myself being drawn more and more into the program.
Overall, I feel this program is one of the better ones in the market to lure the unsuspected client to believe they are an actual legitimate company.  The juror is still out and I would advise anyone who is giving serious thought in investing in this program to check them further through the Better Business Bureau.
If you are looking for a 100% legit business opportunity that is completely free to join please check out this review.
Please follow and like us: